Are you having a craze for the stock market and investments? Taking a glimpse at the list of leading and booming stock market investors in India can inspire you to step ahead in this arena. It is interesting to dive into the roadmap of these leading investors and follow them to seek insane success in the stock markets.
Chalking out a unique investment journey and targeting a high equity net worth is possible after glancing at India's leading stock market investors.
List of Top 5 Stock Market Investors in India
Let's start reading about the leading investors in the stock market and their contribution to this sector.

#1. Radha Kishan Damani
According to the sources and reports from 'Finology' out on June 2022, Radha Kishan Damani had a net worth of more than Rs.2.01 lakh Crore. He holds recognition as a well-known and reputed investor in the Indian stock market.
His thorough belief in analyzing the company fundamentals and evaluating the ethical value of the entity before locking any investments is impressive. Despite being a college dropout, Radha Kishan was involved in the ball-bearing business before he entered the broking world.
He started reaping success in this field after the dip in popularity of Harshad Mehta after the epic 1990s scam. The journey of Damani was full of turbulence and began with the short sale of stocks traded at quite unreasonable valuations. He closely watched out Harshad Mehta and his stock broking practices for years before starting his own venture DMart, i.e. Avenue Supermart, a renowned retail chain.
He notches with his excellence in understanding consumer behaviour and runs over 284 stores across India by the end of 2022. Most of his investments are managed through Bright Star Investments Limited and acquires rank at 87th position in the globally released list of billionaires by Forbes in 2022.
#2. Rakesh Jhunjhunwala
Another stock broking tycoon worth taking a lesson from is Rakesh Jhunjhunwala, who holds a net worth of over Rs.22,429 Crore as unveiled in reports. He is also termed 'The Big Bull' in the investment market and holds prominence as India's Warren Buffet. His impeccable knack for trading and the stock market makes him an unbeatable leader in this industry.
Rakesh Jhunjhunwala is a name to look up to for every equity enthusiast, as he started as a salaried employee and slowly reaped success in the stock market field. He wished to begin his trading journey as a chartered accountant and initially kicked off with an initial investment of just Rs. 5000, which later helped him in turning big.
His low-key investment with mindful tactics enabled him to create unfathomable wealth in the last few decades. Apart from holding the executive position at Hungama Digital Media Entertainment Pvt. Ltd. And Aptech Limited, he also owned a firm known as Rare Enterprises, founded in 2003.
It is a private equity and asset management company headquartered in Mumbai, India. He also held a relationship with Akasa, a popular ultra-low-cost Indian airline. Rakesh Jhunjhunwala defines new avenues of success in the investment sector by targeting markets and maximizing profits.
#3. Mohnish Pabrai
The following famous stock investor with solid market positioning is Mohnish Pabrai, with a net worth of Rs. 1414 Crore. He is a partner and founder of the Pabrai Investment Funds and also started the Dhandho Funds. His popular publications also give a detailed insight into his investment ideologies named 'The Dhandho Investor and Mosaic: Perspectives on Investing'.
Mohnish Pabrai began his journey with the high-speed data networking group called Tellabs and gradually shifted to the same company's marketing and sales group's international subsidiary. He quit his job to venture into the IT Consulting and System Integration company named TransTech Inc.
It had a net worth of over $100,000 in 1991 and sold the company for $20 Million to the Kurt Salmon Associates. As a managing partner of Pabrai Investment Funds, he has owned hedge funds since 1999.
#4. Ashish Dhawan
The next leading market player in India's stock and equity sector is Ashish Dhawan having an impressive net worth of more than Rs.2147 Crore. After completing their MBA from Harvard University, Ashish got recognition as a highly meticulous private equity investor and philanthropist. Ashish is a co-founder of the most successful private equity firm in India, ChrysCapital and left it in 2012 after an experience of over 20 years here.
He also laid the foundation of the Central Square Foundation that helped in framing policies to improvise the education system. His other contributions include leading India's first Liberal Arts University, Ashoka University.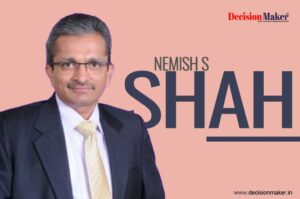 #5. Nemish S Shah
Nemih Shah has been a knowledgeable investment consultant for over 15 years and holds a net worth of more than Rs.1991 Crore. He motivates investors to create profitable equity portfolios and offers users high-level investment assistance and real-world solutions. He adheres to the client-centric approach and offers high-quality service instead of business volumes.
Within a very short span, Nemish S Shah integrated deep into the investment market and came up with solutions for investor concerns!
Final Words
The stock market is highly volatile, and experience is the only thing enabling you to succeed here. Learning about this market's principles and ideologies can help you make the most of your investments.
Though these investor giants have a massive portfolio, their initial journey can inspire you to achieve success. With risk appetite, these investors were able to establish a strong and sustainable market positioning in India's stock market over the years!
Must Read:-