Setting up and starting up a business is a different thing while making it successful in its field, competing with many other similar businesses is a whole different thing. They are not the same.
Anyone with sufficient savings in their bank account can open up a business but not all of them can make their business a successful one. Making a business successful or achieving the desired goal of the business requires business coaches to guide the business owners from time to time or when they need guidance, along with some good management and leadership skills.
Business coaches help business owners find a way out of certain problems or difficulties in their business, which further helps them to achieve their set goals and success.
If you are also owning or thinking about starting a new business, consider following these 10 best business coaches as their thoughts, experiences, and ideas have helped many in their businesses.
Ahead are the names of the 10 best business coaches in 2023!
#1. Dr. Suresh Mansharamani
Dr. Suresh Mansharamani is a best-selling author, TEDx speaker, serial entrepreneur, and presidential awardee. Not only this, he is the only well-known experienced Global OKR (Objective Key Results) coach and numerous Indian entrepreneurs are being mentored by him.
He has a rich business experience of more than 52 years. He got his company listed on the Bombay Stock Exchange and the IPO of it was oversubscribed 300 times.
He has visited more than 50 countries and in a very short period, he has helped many companies to grow exponentially.
His mission is to create more passionate entrepreneurs like him and make them capable of moving their companies toward progress and excelling with their unmatched viewpoint of the world.
#2. Dr. Vivek Bindra
Dr. Vivek Bindra has seven Guinness World Records under his belt for organizing the most extensive webinars on a variety of topics. His accomplishment as a monk-turned-entrepreneur has made him earn an Honorary Ph.D. in Doctor of Philosophy.
He is the Founder and CEO of Bada Business (Big Business). Besides, he is a motivational speaker, leadership consultant, corporate trainer, and an inspiring business coach.
He is also serving as a reputed advisor in more than 1,500 firms.
#3. Rahul Jain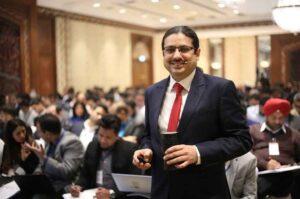 Business Coaching India LLP's Founder and Director, Rahul Jain, bought the concept of Business Coaching to India, 18 years ago. He has more than 25 years of experience, and he is a professional Engineer and an M.B.A.
He has coached more than 17,000 business owners for over 16 years.
#4. Rajiv Talreja
Rajiv Talreja is the founder of Quantum Leap, which is a corporate training agency. Rajiv is one of the leading business transformation coaches who has worked with more than 100 business clients, between 2006 and 2014. His training programs have influenced the lives of over 5000,000 people. He has also built an exclusive network of more than 1000 businesses, through one-on-one coaching.
#5. Ujjwal Patni
Ujjwal Patni holds three Guinness World Records, and he is one of the most famous business coaches in India. Ujjwal Patni was one of the personalities on MTC Global's list of the top 10 Indian Thinkers, in 2014.
Seven books by Ujjwal Patni have been translated into fourteen different languages, which are available in about 28 countries.
#6. Saurabh Kaushik
Saurabh Kaushik is popularly known for his one-on-one business coaching with industry leaders and celebrity entrepreneurs.
He is also well-known for providing help to organizations in turnaround and organically providing huge business growth to his premium clients.
#7. Vikram Dhar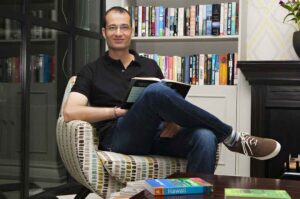 Vikram is a Mentor Coach at International Coach Federation. He has provided training to international clients from numerous countries such as India, the United States of America, the United Kingdom, London, Sri Lanka, Canada, Kuwait, Malaysia, Thailand, Italy, etc.
He was among the top 100 global coaches and World Coaching Buddy awarded him with the Rising Talent Award, in 2017.
#8. Snehal Kamble
Behind the SnehalNiti brand's increasing popularity and development, Snehal Kamble is the driving force. He offers in-depth business training programs, workshops, and dynamic and participative seminars which inspire thousands of people each month in becoming self-sufficient entrepreneurs.
#9. Vandana Shah
Being a skilled and well-known corporate coach, Vandana Shah is a Professional Certified Coach at ICF (International Coach Federation).
As an executive coach, she has more than 3000 hours of Rigorous coaching expertise.
#10. S. A. Anand
Hailing from India, S. A. Anand is a famous public and motivational speaker and within just two years he bagged ten awards. Individuals for IIT, L&T, GGS (MNC), BOT VFX (MNC), etc. are trained by him.
He has worked with many people including CEOs, VIPs, VVIPs, Doctors, Students, Advocates, Educators, etc.
Conclusion
Succeeding in business requires proper guidance with good mentorship, without these, businesses often will not survive in the long run, especially new businesses. The business coaches we talked about above are the 10 best business coaches in 2023. You can follow them and their thoughts and viewpoints to get help or guidance for your business.
Must Read: