Best Places You Must Visit in Delhi
We all love travelling and visiting new places, right? Obviously! Who does not? Traveling helps us in many ways, and one of those many ways is that it helps us in refreshing our minds. From time to time, we all get bored by our monotonous life schedules and want to pause and relax.
So, in this regard, we are presenting you with this article suggesting the ten places you must visit in Delhi. The sights that are mentioned ahead in this article are all insignificant and hold greater importance for our country India! Happy reading ahead! 😊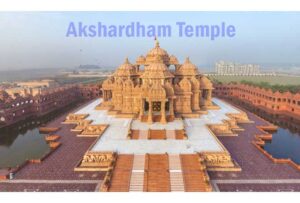 #1. Akshardham Temple
The aesthetic temple, Akshardham, is dedicated to Bhagwan Swaminarayan. The ancient culture of India is exhibited through this temple. Akshardham Temple has its name recorded in the Guinness Book of World Records as the world's largest comprehensive Hindu temple. It is built from intricately carved sandstones and marbles. Statues of Indian warriors and patriots have been featured in this temple's 60 acres of lush lawns. The amazing thing is that Akshardham has musical fountains and a light show, which mesmerize the visitors every evening, after the sunset.
Ticket Fares, as of January 8, 2022:
Adults (12 years and above): RS. 170

Senior Citizens (65 years and above): RS. 125

Children (4 years to 11 years): RS. 100

Children (below 4 years): FREE
Timings:
First Entry: 09:30 AM

Last Entry: 06:30 PM

Exhibition Time: 10:00 AM to 05:30 PM

CLOSED ON MONDAYS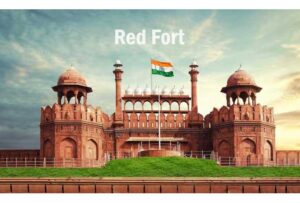 #2. Red Fort
Situated in Old Delhi and built by the Mughals in 1639, Red Fort is made of red-colored sandstones. The shape of this historical monument is octagonal and it has taken a space of 254 acres to be built. There is a museum inside the Red Fort that features some artifacts related to the Mughal era, which includes curtains, daggers, miniature paintings, and carpets. This creativity of architecture also includes Moti Masjid, Step Well, Hira Mahal, Imperial bath, and peacock throne.
For Indians: RS. 35

For Foreigners: RS. 500

Opening Hours: 09:30 AM to 04:30 PM (Closed on Mondays!)
#3. India gate
India gate is the symbol of 70,000 Indian Soldiers' sacrifices who fought against the foreign army during the First World War. The design of its structure is made by Edwin Lutyens. It features the Flame of Immortal Soldiers, (called Amar Jawan Jyoti, in Hindi) now extinguished and merged with the National War Memorial Torch in the honor of those martyred soldiers in the Indo-Pak war.
This monument gives an amazing look at the night when it is lit by the light of the magnificent fountains.
Timings: There is no timing to visit India gate, you can visit any time and on any day.
#4. Qutub Minar
Named after Qutub-ud-din Aibak, this 73-meter long Qutub Minar has 5 stories tall, made with red sandstones and marbles. Engraved and decorated with Quranic texts. There is a spiral staircase of 379 steps and a mosque named Qutub-ul-Islam Masjid.
For Indian visitors: RS. 35 (free for children up to 15 years)

For Foreigners: RS. 550

Timing: 07:00 AM to 05:00 PM (OPENS DAILY!)
Carrying an Identity card is a must for ticket purchasing and entry
#5. Humayun's Tomb
Established by Humayun's widow wife Bega Begam in the memory of Humayun. This tomb is in the existence since 165 AD and was the first example of Mughal Architecture in India.
Inspired by Persian Architecture, it was constructed after nine years of Humayun's death.
For Indian Visitors: RS. 35 (free for children up to 15 years of age)

For Foreign Visitors: RS. 550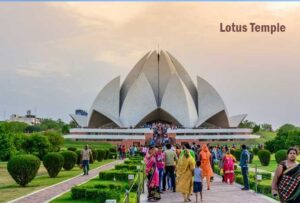 #6. Lotus Temple
This architectural beauty, which is inspired by the lotus flower, is dedicated to the harmony of Humanity. Surrounded by a pond and sprawling gardens, it has 27 free-standing marble-clad petals. Its height of 34-meters makes it capable to let 2500 people inside it altogether. People from every religion are welcomed in this temple.
Summer Timing: 09:00 AM to 07:00 PM

Winter Timing: 09:00 AM to 05:30 PM

OPENS EVERY DAY. EXCEPT ON MONDAYS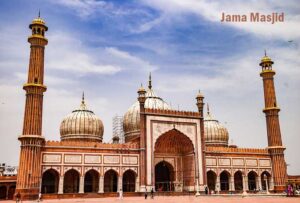 #7. Jama Masjid
Constructed under the Mughal Emperor Shah Jahan, between 1650 and 1656, it is located in the heart of Old Delhi. To build such a giant structure, more than 5000 laborers were required.
There are three gates, a courtyard capable to hold 25,000 devotees, four towers, and 40-meters high minarets in this mosque.
Timings:
07:00 AM to 12:00 PM and 01:30 PM to 06:30 PM
#8. Rashtrapati Bhavan
This is the place you don't want to miss to explore, the President of India's official residence, Rashtrapati Bhavan. You will feel its luxuriousness while visiting it.
#9. Jantar Mantar
Being one of the UNESCO World Heritage Sites, Jantar Mantar is the most popular place to visit in Delhi. This place is also known as Bhool Bhulaiyaa.
Ticket Fares and Timing:
For Indians: RS. 5

For Foreigners: RS. 100

Timings: 09:00 AM to 07:00 PM (OPENS EVERY DAY!)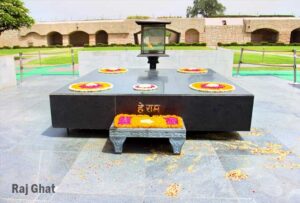 #10. Raj Ghat:
It is an important monument in Delhi, which is dedicated to the father of the nation, M. K. Gandhi, and is located close to the Yamuna River. If you love to visit peaceful places, this place is for you.
Timings:
05:00 AM to 07:30 PM (Opens Every Day!)
 Conclusion:
we explored The 10 places you must visit in Delhi. We hope that it will be helpful for you to find some of the best places to visit in Delhi.
Read More: https://decisionmaker.in/10-powerful-marketing-ideas-to-boost-your-business-in-2022/