Do you want to get updated about the popular newspapers in India in 2023? Despite the digital media, newspaper ads and marketing are a leading choice for many businesses. This sector has gradually emerged as a better promotion mode than other options.
Today, we will discuss the most popular newspapers in India, their publication volume and circulation statistics. There are anticipations that newspaper growth might exceed 80 billion by the end of 2024. Below is the list of popular newspapers in the year 2023.
List of 10 Popular Newspapers in India 2023
1. Dainik Bhaskar
Dainik Bhaskar represents the glory of Indian media as it's the oldest Hindi-language newspaper developed by the Dainik Bhaskar group. It was published in 1958 and ranked amongst India's largest circulated Hindi newspapers.
Ramesh Chandra Agarwal founded this paper. The headquarters of this newspaper is in Madhya Pradesh, Bhopal, and it has several editions in multiple states of India. This newspaper is the most popular pick, with many editions circulated all over India. It also ranks at the 3rd position globally for circulation.
Numerous efforts have been made by the Dainik Bhaskar Group to expand the newspaper circulation in various states of Haryana, Chandigarh, Bikaner, Jodhpur and Bilaspur. Along with the Dainik Bhaskar, a new edition of Business Bhaskar is also launched, marking the first business newspaper in Hindi. Its website also has monthly traffic of 88 million visitors and holds significance on social media platforms like YouTube and Facebook having millions of subscribers.
2. Dainik Jagran
The Dainik Jagran Newspaper was launched in Jhansi in 1942, Uttar Pradesh, under the ownership of Jagran Prakashan Limited. This is another renowned newspaper in India with a strong positioning in various states. The headquarters of this newspaper is in Kanpur, Uttar Pradesh and its numerous editions are published everywhere.
With a regular circulation of over 3.6 million copies, this newspaper is reaching out to millions of readers in India. It covers multiple topics, including national and international news, sports, entertainment, politics and lifestyle. Dainik Jagran has great credibility for its unbiased reporting making it a leading choice for Hindi-speaking readers.
You can also check out its official website to browse the videos, news articles and other multimedia content. An active user base is also evident on social media platforms such as Twitter, Instagram, Facebook and YouTube.
3. The Times of India
The Time of India is another top newspaper in India, seeking a leading position as the largest English-language newspaper in India. It was established in 1838 and is recognized as the country's oldest English-language paper. This newspaper was initially established as The Bombay Times and the Journal of Commerce by Raobahadur Narayan Dinanath Velkar.
It is recently owned by Bennett, Coleman & Co. Ltd. (BCCL), India's leading media conglomerate. This newspaper has a massive readership and is recognized as India's widely circulated English newspaper.
With over 2.8 million copies circulated daily, it has a great presence in all cities of India. The Times of India website offers access to numerous news articles, multimedia content, trending stories, breaking news and other multimedia content.
4. Malayala Manorama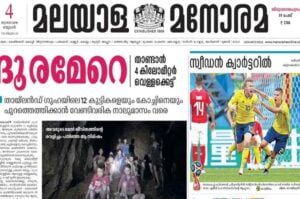 The Malayala Manorama Newspaper was a regional newspaper of Kerela published in 1888 by the Kandathil Varghese Mappillai. It has its headquarters in Kottayam and offers valuable information to the people of Kerela. This newspaper has a massive readership and circulates over 2.3 million copies in various parts of the world. It is also recognized as amongst the oldest media houses in the nation.
A website for the Malayala Manorama also offers complete coverage of the local news, with the primary focus being the Kerela state. It includes classified ads, entertainment updates and other range of lifestyle services. This newspaper records over 35 million monthly visitors to the platform.
5. Amar Ujala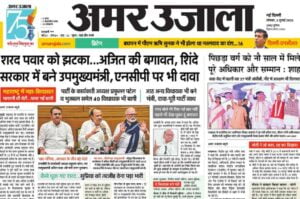 Another recognized Hindi language daily newspaper and a popular publication is Amar Ujala. It is widely available in 22 editions and was founded in 1948 in Agra, Uttar Pradesh, by Gurudev Gupta.
The headquarters of this newspaper is in Noida, and it has numerous editions in different states of North India. This newspaper records a daily circulation of over 2.25 mullions with a dedicated readership based in Himachal Pradesh, Uttarakhand, Punjab, Haryana, Delhi and Himachal Pradesh. It is released in over 6 states and 2 union territories that cover over 180 districts.
The official website of this newspaper has monthly traffic of over 65 million visitors and a notable presence on social media platforms like YouTube and Facebook.
6. Hindustan Dainik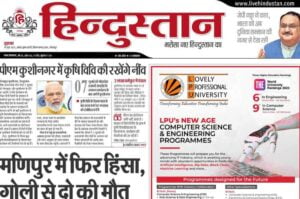 Hindustan Dainik is the next Hindi newspaper launched in 1936 by Madan Mohan Malaviya. It belongs to Hindustan Media Ventures Limited (HMVL), a Hindustan Times Media Ltd subsidiary. This newspaper holds a global rank of 13th and has the 6th position in India. The headquarters of this newspaper is located in New Delhi, along with a remarkable presence in other states of India.
With a daily circulation of more than 2.2 million copies, Hindustan Dainik is the largest circulated newspaper in the country, having a notable presence in Bihar, Jharkhand, Delhi, Uttar Pradesh, Uttarakhand and several other states. You can also visit livehindustan.com for further information on it.
7. Rajasthan Patrika
Rajasthan Patrika is also a daily newspaper in the Hindi language founded in 1956 by Karpoor Chandra Kulish. It aims at offering you unbiased news, better credibility and creating social awareness amongst the masses of Rajasthan.
Jaipur is the headquarter of Rajasthan Patrika, with numerous editions released in various other cities. Its daily circulation count is more than 1.8 million copies across the country.
8. Eenadu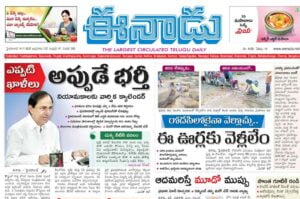 Eenadu is another daily newspaper founded by Ramoji Rao in the year 1974. It is popular in the Telugu language and notices remarkable circulation in the states of Telangana and Andhra Pradesh. The owner of this publication is Ushodaya Enterprises private limited, which belongs to the Ramoji Group.
It is located in Hyderabad and has numerous regional offices in Telangana and Andhra Pradesh. This newspaper has a daily circulation of more than 1.6 million copies and gives complete information to readers about recent happenings in these states.
9. Daily Thanthi
Also known as Dina Thanthi, this is a popular Tamil language newspaper in India. S.P. Adithanar founded this newspaper in 1942 and published it in over 16 cities of India, including Mumbai, Chennai, Bangalore, Coimbatore, Pondicherry, Erode, Madurai, Cuddalore and various others.
The headquarters of this newspaper is in Chennai, and it has multiple regional offices all over Tamil Nadu. Daily Thanthi is prominent in Tamil Nadu, with over 1.5 million copies circulated all over India in rural and urban areas.
As per the Indian Readership Survey of 2017, it is the 5th most-read regional newspaper in India.
10. The Hindu
The Hindu Newspaper was founded by G. Subramania Iyer in 1878 with the motive of supporting Indian Independence and aiding nationalist ideals. It is a popular English newspaper founded by The Hindu Group and has its headquarters in Chennai.
With over 1.5 million copies circulated on a daily basis, this newspaper has developed a niche dedicated to national and international news on politics. Professionals, decision-makers and intellects refer to this newspaper to gain valuable insights.
Final Thoughts
Newspapers have been the oldest mode of advertising and sharing information amongst the masses for several years. Promoters can also find newspapers as a popular mode to post relevant ads for their targeted audiences.  
Must Read: