College Dropout Indian Entrepreneurs
If you ask me the same question, I would say that college dropout sounds cool and exciting. And obviously, I think it is one of the courageous things to do. No, I am not saying or motivating any of you to drop out of your college, nor saying that it is bad to drop out of your college. If you have a strong passion for something or have talent inside you, a college degree or the marks on your mark sheet will never matter in your life and you will become a highly successful and famous individual without them. I am just saying what I feel or think about being a College Dropout Indian entrepreneurs.
Although we are aware of numerous wildly famous non-Indian college dropouts such as Jan Kaum, Bill Gates, Paul Allen, Mark Zuckerberg, Michael Dell, etc. But, are we aware of some of the highly successful Indian College dropouts? I do not think that we are.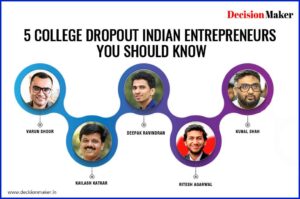 So, we are going to explore the same, ahead. Hence, read this article till the end and learn about the 7 College Dropout Indian Entrepreneurs.
Read More: businesscommunityindia
#1. Varun Shoor
Being a web applications enthusiast, Varun became a self-taught programmer when he was just a 13-years old boy. In the year 2001, at the age of 17, he established Kayako Infotech Ltd., it is a London-based company that was founded in Jalandhar, India. Varun Shoor is the Chief Executive Officer at Kayako but actively takes part in the development and design of the product line.
His company, which was established in 2001, has come a long way. Serving over 50,000 customers in more than 100 countries. Some of the big names such as NASA and the American Motorcyclist Association are its clients.
#2. Kailash Katkar
Hailing from Maharashtra, Kailash Katkar is the man behind the world-famous cyber security company, Quick Heal Technologies Ltd. He started his career at local radio and calculator repair shop and then gradually in the year 1990, he began his calculator repair business. Then he started his venture in 1993, named it CAT computer services.
He got his inspiration from his younger brother Sanjay, who had developed antivirus software to solve their issue related to computer maintenance. And then gradually, in 2007, rebranded and expanded it. He then named it Quick Heal Technologies.
In India, Quick Heal became the first company to develop and sell an antivirus solution.
Quick Heal has a global presence in over 60 countries, including the USA, Japan, Kenya, and Dubai. In India alone, the company has 31 branches.
# 3. Deepak Ravindran
There is a saying that education is not everything, your passion can also make you reach your peak of success. Deepak Ravindran made this statement true. He dropped out when he was in his 5th semester. From the 5th semester of his engineering at the end of 2007 and decided to follow his passion for computers. He took the road less travelled. Kept on going on that road and found several firms such as SmsGyan under Innoz technologies, which used to provide people with knowledge of the internet through text messages. Lookup, which is social commerce messaging app, is the latest venture that is founded by him. Lookup enables its users to chat with local shops and businesses.
#4. Ritesh Agarwal
Ritesh Agarwal is the mind behind the OYO Rooms – providing budget hotels to millions of people of more than 100 nationalities. OYO Rooms is a company that is based in Gurgaon (now-Gurugram) that was founded by Ritesh in 2012. In the beginning, OYO Rooms was founded by the name Oravel, Ritesh rebranded it later and named it OYO Rooms.
Lightspeed Ventures, Sequoia Capital, and Green Oak Capital are backing it up. And there are over 700 hotels that come under it.
#5. Kunal Shah
An online recharge platform that brought the revolution in the world of online recharge systems, Freecharge, is founded by Kunal Shah.
He founded this company in 2010 that in 2015 got acquired by Snapdeal for more than 450 Million dollars.
Conclusion
By reading about 7 college dropout Indian entrepreneurs, it would not be wrong to say that if you have the passion and talent to do something, your college degree or the marks on your mark sheet will never be the barrier on your path to success. All you need to have is strong willpower and faith in yourself that you can achieve anything you want, no matter what.
Must Read: