Best Online Magazines in Different Sectors
The trend of reading a magazine in India is not new. People (well, those who are passionate about reading magazines) are actively reading magazines since ancient times. We are talking about in best online magazines in different sectors here, which are no less popular than print ones. Instead, they seem to be more popular.
Magazine reading is so popular in India and all over the world that there are numerous magazines to read in every sector.
No matter what topic interests you the most, you will always find some magazines that will match your tastes or interests. Whether your favorite topic is in tech, education, fashion, jobs and employment, literature, food and kitchen, politics, startup business and economics, culture and traditions, general knowledge, or dark fantasy.
There are magazines for every interest. Is it not interesting enough?
So, do you want to know which online magazine is leading which sector in the market? And I guess, you do and that is why you are sitting in front of your laptop screen or with your mobile phone in your hand and reading this, is it not? That is great! We have got you covered, yeah!
Ahead, you will find the list of the names of different online magazines and the sector that they are leading. So, continue your reading till the end and find the 10 best online magazines in different sectors you must read.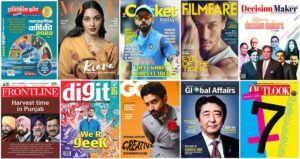 #1. Best Magazine for Current Affairs: Pratiyogita Darpan
If you are interested or want to stay updated with current affairs and general knowledge, Pratiyogita Darpan has got you covered. This is the leading magazine in its field and is believed to be the most reliable source of insights for those preparing for various competitive exams such as the Civil Service Exam, State Public Service Exam, Bank Exam, etc. Upkar Prakashan started this magazine in 1978.
This monthly magazine is available both as a print magazine and an online magazine.
#2. Magazine that is Leading the Fashion Sector: Vogue
Vogue is the most famous and widely read fashion magazine in India. Not only in India but everywhere around the sphere. It takes care of every fashion sense of women of India such as new trends, fashions, accessories, and everything else that has something to do with fashion
#3. A Cricket Enthusiasts' Magazine: Cricket Today
Published by Diamond Magazines, Cricket Today is there for all cricket enthusiasts who love to stay updated on everything related to cricket. All the updates from the world of cricket are covered by this magazine.
#4. Leading the Lifestyle and Entertainment Sector: Filmfare Magazine
Filmfare is presently the leading magazine in the lifestyle and fashion industry, you will find everything that is rel ated typo fashion and lifestyle. A variety of topics are covered by this magazine, such as updates from Bollywood, celebrity awards, updates on the new movies' releases, etc. The content of this magazine can be accessed online as well. The diehard fans of Bollywood and Bollywood celebrities will never miss any updates that come from the world of Bollywood.
#5. Fastest Emerging Online Business Magazine: Decision Maker Magazine
Decision Maker Magazine is the fastest emerging online business magazine, which covers success stories, journeys, visions, missions, and milestones of a variety of business sectors like startups, entrepreneurs, CEOs, Founders, and Managing Directors. It is a monthly magazine that is published in New Delhi, India.
#6. Magazine That Provides In-Depth Analysis of Events and Issues in India: Frontline Magazine
The Publishers of The Hindu publishes Frontline Magazine. This magazine will help you stay updated with all the important events and issues in India. Frontline Magazine covers international events as well. It covers several topics, which include literature, politics, science, arts, social justice, media, etc.
#7. One of the Top Leading Technology Magazines: Digit Magazine
This magazine is a great fit for tech geeks who are very much interested in knowing what is going on in the tech industry. Digit Magazine is one of the top technologies that are worth reading. This magazine features all the latest reviews on tablets, laptops, phones, etc. This magazine will not let its readers miss any technology-related updates.
#8. Leading Magazine for Men: GQ India Magazine
Providing the latest lifestyle and fashion trends, GQ India Magazine is one of the leading men's magazines in India. It is the perfect destination for men to stay updated with all the latest trends that are related to them. This magazine covers health-related topics as well.
#9. Best Magazine on Foreign Policy and International Relations: Global Affairs
Global Affairs is also an Indian magazine that covers a broad range of subjects such as history, international development, economics, terrorism, etc. And this magazine features the opinions of policymakers, prominent academicians, and local writers from around the globe.
#10. One of the Leading News Magazine in India: Outlook India
Outlook India is an online news magazine but there is more to see and read inside it than just news. Various topics, such as business, cricket, politics, Bollywood, etc. are covered in this magazine.
Conclusion
This was the list of 10 best online magazines in different sectors you must read. Hope it was an informative piece for you and you enjoyed reading it.
Suggested Reads