Arvind started his entrepreneurial journey back in Nov 2015. It was the beginning of becoming. What did he want to become? He did not know but he knew he wanted to start-up. He did not know what he was getting himself into. The roller coaster ride that followed made all the difference.
Arvind is an alumnus of IIT Mumbai, where he initially started working in a start-up founded by his seniors and friends. There he led teams which executed operations in Tier 1 cities in India. He trained over 500 data collectors, built an aerial team of more than 60 people from scratch and built another team, Imagery (Innovations team) which used to work with the latest visual technologies like drones, 360, VR and AR.
Arvind and his team did a Pilot project at IIT Mumbai back in mid-2015, where they created one of the 1st 360-degree videos in India. They also created Google Street View for IIT Mumbai and made an aerial film on the campus – IIT Bombay from the air. They showed the 360-degree Virtual Reality experience to many people and their reactions helped him to keep faith in the emerging technology. He then founded Elysian Studios, which creates blissful experiences in Virtual Reality.
The years that followed, he realized that he lacked wisdom. In search of wisdom and truth, he traveled to many spiritual places in India i.e., Kashi, Bodh Gaya, Rishikesh, Spiti valley, Key Monastery, Kumbh Mela and many other related spots.
Co-incidently, the forces of the Universe helped him discover the right path, which presented an opportunity to cater to some international customers. An entrepreneurial journey is tough, you can only sail through it if you have the passion along with persistence, perseverance and patience. After that, the way ahead was more exciting and he started working with a few of the biggest MNCs in the country.
Elysian uses a unique and in-depth approach to virtual reality storytelling, creating blissful VR experiences. Elysian means divinely inspired and our mission is to create content which inspires you to travel to spiritual places and helps you grow, evolve and transform.
We are one of the 1st VR studios in India who have created a VR series – Mystic Lands, which takes you to some of the most ancient, blissful and energetic lands, like Kashi –
The city of Lord Shiva, Bodh Gaya – The land of Buddha's enlightenment and Rishikesh
– Yoga capital of the world.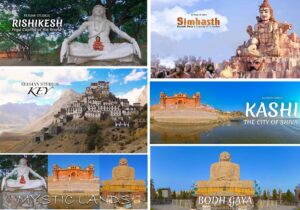 Elysian Studios' VR films have not only captured the hearts of viewers worldwide but have also garnered acclaim in prestigious international arenas. Their creations have been officially selected at renowned film festivals such as the Tampere Film Festival in Finland, Church of VR during VR Days and Docs Against Gravity Film Festival. Moreover, their work has been showcased on esteemed VR platforms, including Inception and Kaleidoscope VR Film Festival.
As Elysian Studios continues to captivate audiences with its immersive VR experiences, it remains at the forefront of the ever-evolving VR landscape. With their innovative storytelling and dedication to spiritual exploration, they inspire viewers to embark on a transformative journey, one VR experience at a time.
In a world where the boundaries between reality and virtuality blur, Elysian Studios is inviting all to embark on a spiritual odyssey without leaving the comfort of their homes. As they say at Elysian Studios, "Let the spirit of exploration guide you—the blissful realms await."
In the hands of Arvind and his dedicated team, Elysian Studios is shaping dreams, creating bliss and offering a glimpse into the incredible, transformative power of India's ancient wisdom. As the world adapts to this new reality, Elysian Studios is reminding everyone that the journey of storytelling has only just begun and the best is yet to come.
Also Read: