Life is successful only, the one who suffers from the collision of the apocalypse. It is said that if the intentions are strong and have faith in yourself, then even after a million failures, you definitely get your destination one day or the other. This story is an inspiration for those youths who, being frightened by the slightest failure or challenges, deviate from their goals and give up. Rohit Sharma of Dausa has set an example in front of the youth, even after many failures, Rohit is earning his name across the country today by selling tea at the age of just 25. At a very young age, Rohit started his startup named 'Chaiwalas' and has included his name among the most successful young entrepreneurs of Rajasthan. Rohit has also recently been honored with the National Award of MSME world. Rajasthan Governor Shri Kalraj Mishra and Jaipur MP Ramcharan Bohra felicitated Rohit as "Innovative Startup of the Year" for their Startup Chaiwalas at the 'National MSME Accords 2022' for Business Excellence organized by GIBF. Rohit who hails from Dausa, a small district in Rajasthan, comes from an affluent family. At the age of 17, Rohit had to leave his nursing studies and join the family business to help his father.
After few months, his family business winded up and his family suffered huge financial loss resulting in some extreme exacting conditions. Being a responsible and sensible person, seeing the crisis of livelihood in front of the family for the future, Rohit decided to set up a startup of his own. Since their financial conditions were bad and a tea shop requires the least funds to operate, Rohit decided to open a tea shop and start a startup "Chaiwalas" from Jaipur itself
Starting Journey of Chaiwalas
Chai (tea) has always been an integral part of the Indian culture. With time, there have been many new variations in this traditional beverage. Many entrepreneurs started chain tea shops and start-ups. One such start-up to reckon with is 25-year-old Rohit's Chaiwalas Group. Rohit Kumar Sharma started selling tea through his startup five years ago. Today, his tea is discussed across Jaipur and other cities. In this era of new India, the trend for startups is increasing among the youth instead of jobs.
Rohit is better known by the name of 'Chaiwalas! One such passionate and inspiring youth, Rohit Kumar Sharma, the founder of "Chaiwalas", at a very juvenile age of 25 years, has embraced his name amongst the most successful entrepreneurs of Rajasthan.
Failures and Struggle
Rohit's journey of establishing a renowned brand "Chaiwalas" was not facile or a fluke, but his success was a consequence of his perseverating and persisting actions despite numerous failures and hurdles he faced. Rohit attributes his success to his repeated failures. He believes – "Do not be embarrassed by your failures, learn from them and start again." When Rohit confronted his desire to do a business and open a tea shop in front of his family, his family strongly opposed it.
Some relatives came forward to do business together at that time, but as soon as they heard about the opening of a tea shop, they too stepped back. But Rohit knew that this was the only way he can help his family in finances and hence, with great difficulty, he rented a shop in Jaipur. As soon as he rented the shop, his grandfather had an accident, and all the money raised for the business went towards his treatment. He was forced to give up his intention at that time. As soon as his grandfather recovered, he immediately returned to Jaipur and starts his startup again with the help of his mother urmila sharma and his friend Shubham Sharma.
Covid-19 pandemic was a bane for humanity. It not only caused the death of millions of people, but also a huge number of startups went closed forever. "Chaiwalas" was not an exception to it. After becoming famous, as soon as Rohit gave his first franchise, there was a lockdown, and he had to cancel that deal. This affected him adversely, and he got paralysis due to mental pain and was physically broken. But due to his dauntless and gallant courage, he worked hard again and set new heights of success. He gives this credit to fight this situation to his wife Deepali Sharma and his father Hitendra mohan sharma.
Failures to Success
Struggling with failures, Rohit earned a good name due to his excellent tea and image. he received his first award. Rohit Got Rajasthan Excellence Award for excellence in tea and coffee. Not only this, many celebrities like Hon. Loksabha President OM birla, Hon. Chief Minister Shree Ashok Gehlot, Super 30 Fame Anand Kumar, BJP leader Ashok Parnami, Cabinet minister Arun Chaturvedi, Jaipur MP Ramcharan Bohra, Cabinet Minister Shrichand Kriplani, State Minister Bhupendra Saini, MLA Ashok lahoty , Rajya Sabha MP Ghanshyam Tiwari, Bollywood actor Vikalp Mehta, Shravan Sagar and many other VIPs have visited "Chaiwalas". At that time Chaiwalas started appearing in the media as well.
Meanwhile, seeing Rohit's growing fame, Red FM 93.5 was nominated in the competition of Best Tea category of Jaipur. In this, Rohit won this contest by defeating two other chaiwalas named Namo chai & Sikora Jaipur. After winning this contest, Chaiwalas became famous all over Rajasthan.
Opening of Chaiwalas 2nd
Rohit don't look backwards for very long. He keep moving forward, opening up new doors, and doing new things, because he're curious and curiosity keeps leading us down new paths . He Participates in the competition organized for Jaipur Chaupati by government of Rajasthan , Rohit won this competition by defeating other 9 tea shops of Jaipur who have been running for several decades like Sahu chai chaura rasta, Gulab ji chai & many more. The Chief Minister of the Rajasthan Sh Ashok Gehlot Inaugurated chaiwalas 2nd in the kind presence of Cabinet Minister Sh Shanti Dhariwal, Congress Leader Pushpendra Bharadwaj, Housing Commissioner IAS Pawan Arora.
During this time the chaiwalas started a branch in Govardhan, Mathura, Uttar Pradesh. Its purpose was to spread its branches in another state along with Rajasthan. Now 3 outlets of chaiwalas is running and 4 more outlets are going to opening soon. Right Now Rohit haves more than 50 franchise queries for chaiwalas from all over country and also from foreign countries.
Getting National Award By Rajasthan Governer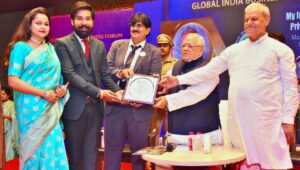 Recently, The Governor of Rajasthan, Sh. Kalraj Mishra and Jaipur MP Sh. Ramcharan Bohra, Global president Sh. Jitendra Joshi on National M.S.M.E Awards 2022 organized by Global India Business Forum for Business Excellence, honoured Rohit with the "Innovative Startup of the Year" award for their Startup Chaiwalas. Obviously, Rohit overcame those initial bouts of failure and has cemented her name as one of the most successful startups of Rajasthan.
The ambassadors of Country Nigeria, Costa Rica, Tobago, Tanzania, Jamaica, and Cuba have also honored Rohit Sharma for building a successful startup at such a juvenile age. They also invited him in their countries and promised for completing all formalities of registration qnd opening startup there asap. At present, Rohit has many offers from foriegn countries and territories including Dubai, Tanzania, Cuba and also from various states of india.
Swadeshi Jagaran Manch Young Entrepreneurship Award
Youth Entrepreneurship Award ceremony was organized in Dausa under Swavalambi Bharat Abhiyan of Swadeshi Jagran Manch in which Founder and CEO of Chaiwalas Rohit Sharma was honored for setting up a famous enterprise at a young age. During the program, Chief Guest of the program Satish Kumar, All India Organiser of Swadeshi Jagran Manch and special guests Archana Meena, Manohar Sharma, Bhuvnesh Mishra, ADEO Manisha Jaiman honored Rohit Sharma with a citation and award during this time.
All India Planning meeting of Swavalambi Bharat Abhiyan held at Haryana Bhawan Delhi on 1 October, In which 6 young entrepreneurs from all over the country were honored by My SBA. In which Rohit Kumar Sharma, Founder & CEO of Chaiwalas was also honored. In this, many entrepreneurs, including representatives of about 15 organizations associated with the union from almost all the states of the state, participated. The chief guest in the program was Dr. Krishna Gopal ji, Shm Kiran Chopra ji, Punjab Kesari, Sh. Satish ji, Sh Bhagwati Prasad ji, Shm. Archana Meena.
Jaipur Catering Dealers Samiti Popular Choice Award 2022
In the Popular Choice Award 22 organized by the Jaipur Catering Dealers Committee during the 7th Caterers Expo 2022, Chaiwalas CEO Rohit Sharma was honored with the award in honor of the most popular chaiwala of the state. The chief guests of the program were Pratap Singh Chauhan of Khatushyam Mandir Committee, IPS Parish Deshmukh, former minister Bhupendra Saini. During this, the chairman of Jaipur Catering Dealers Committee, Om Sodhani, secretary Sanjay Khandelwal honored the famous entrepreneurs of the food and catering sector of the state.
The founder and CEO of Chaiwalas, Rohit Kumar Sharma was invited by the Government of Rajasthan to the Rajasthan Digifest organized at Birla Auditorium Jaipur. In Rajasthan Digifest, Rohit inspired the common youth for self-employment as well as interacted with youth, investors and his fans.
Asia Business Icons Summit By Global Empire Icons of Asia Award 2022
Chaiwalas Got their First International Award "ICONS OF ASIA" powered by Global empire events and Biznation tv, for the amazing journey of Chaiwalas and excellence in beverage sector in asia. Founder of Chaiwalas Founder & CEO Rohit Kumar Sharma got this award ASIA BUSINESS ICONS SUMMIT BY GLOBAL EMPIRE from Cultural Ambassador of Seychelles, South Africa, Isckon movement leader Shree Prashant Mukund Das Ji And Councellor of Tunisia Country, Mrs Shabeena Sultana. In this summit asia' s five countries business icons was presented.
Global Triumph Foundation and Image Planet organized the Icons of India 2022 event virtually. Icons of India 2022, Virtual Edition was India's largest congregation showcasing breakthrough achievements and small innovations with a big spark instrumental in reshaping the future of India's Business Dynamics. In this Chief guest Nazneen Banu; IDSE – Director – NGMA, Bengaluru, Ministry of Culture, Govt. of India honoured chaiwalas's founder & CEO Mr Rohit kumar Sharma for Best beverage startup of the year in india.
Navdrishti Times & Entrepreneurs Club Business Icon Award 2022
Chaiwalas Founder Rohit Kumar Sharma also honored with 'Business Icon Award 2022' at the Business conclave organized by The Entrepreneurs Club and Navdrishti Times in association with franchisebatao.com. During this Chief Guest Actor and Leader Manoj Tiwari, Delhi BJP Vice President Ashok Goel, Chairman of Agarwal Packers & Movers Ramesh Agarwal, Industrialist Navratna Agarwal Bikanerwala, Founder of Acres and Inches Chetan Dua and Founder of Franchisebatao.com Ashish Gupta honoured rohit about their journey and emerging startup.
Vipra Business Meet 2022
Vipra Business Meet 2022 organized by Vipra Mahasabha Rajasthan Business Wing, In which Chaiwalas Founder & CEO Rohit Kumar Sharma was honored with the award for his excellent & struggle full journey of chaiwalas . The State President of Vipra Mahasabha Sh Suneel Udaiya Ji and Business Wing President Sachin Aanand Sharma, Indian Pharmacist Association Rajasthan President Sarveshwar Sharma and all Vipra Mahasabha Team honoured rohit for his entrepreneurship journey.
National Small Industry Cooperation (Gov of India) MSME India Business Award 2022
Msme India business award 2022 : Chaiwalas Founder Rohit Kumar Sharma also honored with 'Msme India business award 2022' at the Business conclave organized by Goverment of india*s National Small Industries Coroporation ltd , industry live and techindia. During this Chief Guest Sh. Gaurang Dixit (Chairman NSIC), Dr Ajay Chowdhry (Founder HCL), Shm. Vineeta Hariharan (Former Chief of External missions, Ministry of MSME ), Dr Inderjeet Ghosh (Chairman – MSMECCII) and many other big businesses founders and ceo honoured rohit about their journey of chaiwalas and emerging startup chaiwalas.
Rajasthan Achievers Award 2022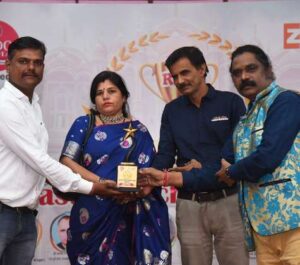 Rajasthan Achievers Award 2022 organized by Pedo Media at Pink City Press Club in Jaipur, Chaiwalas was honored with the Rajasthan Achievers Award for making a distinction in the beverage sector. During this, Chaiwalas founder Rohit Kumar Sharma's mother Urmila Sharma and father Hitendra Mohan Sharma were honored with this award. Chaiwalas recieved two awards in a single day for their excellence in beverage sector.
Must Read: