Mobile Applications All Business Owners
In this article, we talk about 5 Mobile Applications All Business Owners Should Have. The life of a business owner is surrounded by deadlines, phone calls, client meetings, and many more. Handling multiple tasks during the day is an exhausting process. Due to growing work pressure, entrepreneurs often miss essential tasks that could lead them to trouble. 
Being an entrepreneur may appear to be inspiring, but the position comes with many challenges. Most entrepreneurs need help with their deadlines. Prioritizing the work becomes easier when you have so many things to handle. Besides that, the breakdown in the management could make the simple problem may become a nightmare. 
Read More: businesscommunityindia
In such conditions, it is easy to drive away the focus from the end goal and spend time on unnecessary things.
While being the decision maker, you cannot give excuses and let things pile up naturally. You have to be on the toe all the time and ensure the business functions are running smoothly. The only way to deal with a situation is to organize yourself with the help of business apps. 
We have listed the top business app that every entrance should use to manage their everyday life. Integrating these business applications will improve your work efficiency. You can prioritize the task, automate specific repeated tasks, and get a productivity boost with collaboration with the team through the application.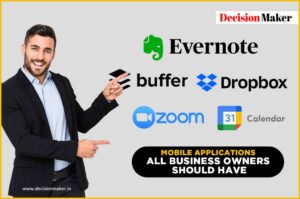 Note down the ideas as soon as they appear in your brain. You never know when a small idea could become a multimillion-dollar company. Evernote offers you easy-to-record digital notes stored on your smartphone device. The application provides various exciting features such as organizing the task, prioritizing, adding labels, archiving the task, etc. 
Evernote comes with multi-access features, which allow you to access the notes through your Smartphone, desktop, tablet, and any device connected over the wifi. Data you stored in the application will be automatically synced to all accessible devices, allowing you to shift from one device to another without moving the data file.
Google Calendar
Google offers many premium services through the calendar application. You can set your monthly or yearly calendar for the routine task. The calendar alerts you about the meetings, phone calls, or activities you perform daily. With the help of the calendar application, you can arrange all your business meetings and take advantage of them. 
The use of Google calendar will make your day fully organized. You will have peaceful and efficient management of your time. Even you can make the calendar public, so the people who want to meet you know when is the best time to meet you. 
Entrepreneurs have to look for their branding on social media sites. Managing social accounts could be easier when you have many platforms. Buffer simplifies social media profile management. Mobile applications give instant access to all your social accounts from a single platform. 
Log in to all your social accounts in the app, and perform all your social activities through the app. Publish a post to all the social accounts from a single platform. It will save your productivity time, and you will never miss your followers' updates.
Business owners have to deal with a large number of data files. After a certain period, the data files will exhaust your smartphone storage. The only way to eliminate this problem is to sign up for additional storage facilities. 
It is where the dropbox storage solution comes into play. Dropbox offers you storage facilities at affordable pricing, so you never have to delete the files that come on your way. 
Move the file to your dropbox account and keep your mobile storage space free. Dropbox app supports multiple operating systems and mobile devices, so the data will be instantly available even if you shift from one device to another. File sync and recovery facilities are offered to the customers. You can even collaborate with the team member through the dropbox application and work together privately.
Zoom video conferencing would be essential for communicating with your clients overseas. Zoom meeting is popular among organizations. After the pandemic, zoom has received a fantastic response from the corporate world across the globe. People are comfortable having a video calls with people online. 
Zoom gives you professional touch to your video conferencing need. Also, a team can work together on the video call and conduct the interactive project meeting to resolve a critical problem. Hence, the Zoom app will be a reliable solution for improving your video conferring services for the client. 
In Summary
I hope you like the Mobile Applications All Business Owner article. Managing business becomes easy when you have powerful tools in your hands. Entrepreneurs should take the help of modern technology to simplify their work process. Mobile applications will reduce the workload while delivering a seamless experience to the client. Within a month, you will see a significant change in your decision-making power, and management will become easy. 
You will have more peaceful hours to think about innovative ideas than spending time behind missing deadlines. So get these mobile applications today and start using them to improve your productivity and make quick progress. 
Must Read: