SpireTec Solutions: Providing Top-Notch Personalized Training
This era that we are living in right now is also called the digital era, where advanced technologies and innovations are revolutionizing, and transforming every foremost industry. It is not only helping the industries that are already established but also the various new and emerging industries or companies. E-learning is one of those industries, and since the COVID-19 pandemic has hit us all, this industry is witnessing its exceptional rise like never before. And one of those many e-learning firms is SpireTec Solutions, about which we are going to learn more, ahead.
SpireTec Solutions, which is founded in the year 2017 by Abhishek Kumar who is holding more than 13 years of experience in the learning and development sector, is one of the leading and fastest-growing providers of Learning Services, IT Consulting, and Venue Business. It provides its training services to worldwide corporate customers. Due to SpireTec Solutions' expertise in personalized and eminence training services, the company continues to become popular in the L&D Market and it is laudably working to bring a viable transformation by using learning and development.
We, at Decision Maker, had an opportunity to interview the Founder and CEO, Abhishek, and he took us through his nostalgic journey of entrepreneurship and shared with us his story of giving birth to SpireTec Solutions, which has its global presence and is recognized for its top-notch training services in its field of expertise.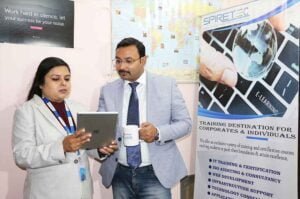 Tell us about yourself and your journey from the start, before founding SpireTec Solutions.
My journey was long but full of excitement and enthusiasm. For more than 13 Years, until 2017 – the foundation year of SpireTec Solutions, I worked with five learning and development organizations. With two of these firms, I was associated since their startup phase and helped them build and grow their companies, from the scratch.
On one fine day when I was just doing a throwback to my journey and connecting the dots, I realized that there was a hidden potential, and this is when the idea of starting a business came to my mind. Therefore, I went forward to develop a business model in such a way that it could provide excellent training and could enhance work performance, aligned with the market needs. And this is how I and Chitra Kumari founded SpireTec Solutions.
Moving ahead in my journey, I did build channel association partnerships with numerous expert and skilled trainers, companies, and vendors, globally. We partnered with many companies within 3-4 years of our embarking and vastly increased our clients.
And presently, apart from being the founder and CEO of my company, I am a master trainer with more than 12 years of experience and proficiency in a variety of technologies and tools. As a corporate trainer, I am having a proven track record and can efficiently manage and lead teams to run a successful training operation.
My journey this far was never a cakewalk for me, there are many big players in the market out there who are giving cut-throat competition, and I had to face them all. Even though the industry prerequisites are still the same, the number of players in the field continues to grow. Furthermore, there are several other challenges that we face such as building trust with our clients as well as with the trainers, cost benchmarking, creating a highly-efficient team, etc.
What is the delivery process of the services of SpireTec Solutions, and how it makes sure that its services are meeting its clients' requirements?
SpireTec Solutions' key motto is client satisfaction. Before responding to any training inquiry that we receive, we work to apprehend their requirement which is done by sending a questionnaire to the client we have received inquiries from. This helps us know both their requirement and the level of their knowledge. Post which, we conduct a call between the client and our trainers. Afterward, we search for the best-fit trainer, based on the client's needs and the level of their knowledge. After having proper consultation, we come up with a course or training program apt for them, which would meet their requirements and would help them bring betterment in their learning.
Selling our training courses is not the only objective that we have at SpireTec Solutions. We strive hard to deliver quality to our global clients and their satisfaction means a lot to us. I believe time and money to be the most valuable assets in anyone's life, and when these two are invested in our company, my team makes sure that they are benefited and get the most out of our provided service to them.
Tell us about the training and solutions your clients are been provided with.
Our clients from various organizations around the globe are provided with consultancy and training services. Our team holds expertise in providing various types of training such as online training, classroom training, etc. We provide training to professionals who are related to numerous technologies and tools. Our clients worldwide are getting benefitted using 24*7 available online training modules, which they can access any time they wish to.
Classroom training is also provided by us in both one-on-one and group session mode, which can be chosen by the client as per their convenience and needs. Every kind of support regarding management training, technical training, and industrial training is provided by us.
Also, not only training, we offer mobile application development consultancy as well as infrastructure support and consultancy regarding technology.
What is the inspiration behind SpireTec Solutions' entry into the business segment?
From the very start, our topmost priority has always been to provide training quality. And as there are very less companies that are quality-focused, we entered into the business segment with our aim to provide quality training but at an affordable price, and to provide hands-on learning. We have highly-experienced trainers who make sure that the client gets the most out of their chosen course or training.
Would you like to share the plans that you have for the future of your company?
We are tirelessly working to incorporate machine learning, AI, blockchain, data science, AWS, cloud computing, and loT in our proficiencies. And currently, the development of industry-specific training is in the process, it would be in alignment with the various internal procedures that are followed by different industries. We are also trying to develop a solution that could help provide training to the employees of the company, which would be based on their everyday work requirements.