The Success Story of Indra Nooyi
Being an India-American Entrepreneur and corporate leader, Indra Nooyi is one of the most eminent CEOs. She is the former CEO and chairperson of PepsiCo and also was one of Time's 100 Most Influential People and has been recognized as the most powerful woman and visionary leader by Fortune.
Also, by Brendan Wood International in 2009, Indra Nooyi was named as one of the TopGun CEOs, she was the 16th on the list. Furthermore, she was also 13th on the Forbes list of the World's 100 Most Powerful Women in the year 2014.
Read More: businesscommunityindia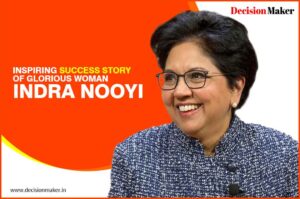 Are you started to feel inspired by now? Let us dig a bit deeper and explore the fascinating success story of such an inspiring personality, Indra Nooyi. Continue your reading Success Story of Indra Nooyi, and get inspired with us!
Birth, Growing Up, and Education of Indra Nooyi
Madras (now Chennai), Tamil Nadu, India is the birthplace of Indra Nooyi, where she took birth in a conservative family, on October 28, 1955. She completed her schooling at Holy Angels Anglo-Indian Higher-Secondary School, which is situated in Thyagaraya Nagar (AKA: T. Nagar), a residential and commercial neighborhood in Chennai. This was a girls' school.
In the year 1974, she has done her bachelor's degree in Physics, Chemistry, and Mathematics from Madras Christian College, which is affiliated with M.U. (Madras University). After two years, in 1976, she got her post-graduation diploma from the Indian Institute of Management (IIM), Calcutta (Kolkata). And then she fled to the United States of America in 1978 to pursue her further studies, and there in the year 1980, at Yale School of Management, Indra Nooyi achieved her Master's degree in Public and Private Management. While she was enrolled in and attending Yale School of Management, she accomplished her summer internship with Booz Allen Hamilton.
Success Story of Indra Nooyi and Career Start
After finishing her studies and completing her master's in public and private management, she started her career at Johnson & Johnson as a product manager, and at a textile company named Mettur Beardsell Ltd. She, for six years, was also a strategy consultant at Boston Consulting Group.
Indra Nooyi at PepsiCo
Nooyi's PepsiCo journey began in the year 1994 when she joined here as a senior vice president of corporate strategy and growth, and after six years, in 2001, PepsiCo made her a Chief Financial Officer (CFO) and president of the company.
It is her hard work, experiences in business, dedication, alignment in strategies, and vision that made her earn the post of CEO of the giant and globally acclaimed multinational food and Beverages Corporation, PepsiCo. Interestingly, in Fortune 500, she was one of the select 11 woman CEOs and also the fifth chairperson and CEO of PepsiCo, earlier to her, it was Steven Reinimund on that throne.
When she was the CFO of the company, the annual revenues of PepsiCo witnessed a stunning increase of 72%, and the net profit reached 5.6 billion US dollars, more than double. Yes, you read that right.
Indra Nooyi's abilities, experiences in the business field, and exceptional skills got admired and applauded by many globally acclaimed personalities and/or professionals such as stakeholders of the companies, editors, and strategists, worldwide.
Struggles Faced by Indra Nooyi
As there is a popular saying that success never comes without you having to face struggles. The same was true for her as well, when she fled abroad to pursue her master's in Public and Private Management, she for two years had to struggle to make ends meet. There at the night, she used to work as a receptionist and study in the morning.
She used to work in a saree because she did not have the money to afford western clothes or a business suit. Even the very first interview she gave was in a saree.
Indra Nooyi's Personal Life
Indra Nooyi tied her life's knot with the President of AmSoft Systems, Raj. K. Nooyi. They live in Greenwich town, Connecticut, United States. Preetha Nooyi and Tara Nooyi are their two daughters.
Awards and Achievements of Indra Nooyi
Indra Nooyi has been honored with numerous awards and recognitions, and this is of no surprise or doubt that her hard work, struggles, and dedication made her achieve it all.
Apart from her recognition and awards that we discussed above, bellows are some more honors are listed.
The Wall Street Journal included her in its list of 50 women to watch, in the years 2007 and 2008.

NDTV recognized her as one of the top 50 living legends in 2013

In the year 2007, she was honored with the most prestigious Padma Bhushan award by the 11th President of India, A. P. J. Abdul Kalam, at Rashtrapati Bhavan.
Conclusion
This Success Story of Indra Nooyi was indeed very inspiring and motivating for everyone, and it also proves that success demands unbreakable dedication and strong willpower. We hope this story was insightful and inspirational for you as well as it was for us!
Read More: https://decisionmaker.in/top-10-inspirational-women-behind-the-brand-in-india/