In the current age, cyber security is a looming issue. Private Citizens, companies, and government agencies are becoming more aware of how important it is to stay safe online. That's why we're here to help with this post about the importance of cyber security. So what does that mean for you? Hopefully, that means a better life – and a safer one!
If you're not sure what all the fuss is about when it comes to cyber security, here's the definition: cyber security refers to safeguarding assets from damage or theft through computer networks and providing "managed protection" against network-based threats.
Cyber security is essential for any organization, whether a large corporation or a small business. Small businesses especially are at risk of being victimized, as they're too often unsure how to take care of their computers. When you're a small business owner, you need to worry about your company's security and what your employees do after hours.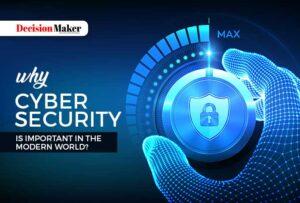 Elaboration on the Importance of Cyber Security in the Modern World
#1. Cyber Security is the backbone of any business 
Cyber security is crucial for every business to function correctly. Data may be the new oil, but there's only so much "data oil." Cyber security is about securing and enhancing data to enable businesses to flourish. There are many kinds of cyber attacks out there, and just because one way of damaging your business isn't available doesn't mean another isn't. Your business could be hacked through your website, while a hacker could break into it through email or even after hours due to phishing. Some hackers hide their tracks so well; you'd never even know they were behind the attack!
#2. Cyber Security is a critical aspect of modern warfare
Perhaps even more than soldiers, people are a target for cyber terrorism and cyber warfare every day. While the U.S. is trying to develop the best cyber security strategies, other countries are capitalizing on the lack of cyber security in the U.S. to try and gain access to some of our most important infrastructure systems – weapons systems, power grids, and more!
Everyone in the business needs to be aware of how vulnerable their data is — but it's also up to each person. If you want your company to be protected from hackers, you need to make sure that it is protected by investing in the latest services and solutions available. Otherwise, you're setting yourself up for failure!
#3. Cyber Security is a complex and business imperative
Cyber security is often misunderstood. It's a complex, ever-changing landscape, and businesses struggle to keep up. However, businesses must stay ahead of the game and protect their data from cyber-attacks. No matter how small or large your business is, cyber security needs to be a priority. It shouldn't just be an afterthought – it should be a part of everyday business operations. A small business owner's time might seem valuable, but even the most mundane pieces of information could result in some serious damage: from lost customers to financial loss.
#4. Cyber Security is an R&D issue
With more and more people using the Internet on their computers and in their everyday lives, it's becoming increasingly important that companies keep up with the latest technologies to stay ahead of the game and protect their assets. Additionally, if you want to keep an edge over your competition, you need to develop your strategies and solutions to stay ahead of the game.
The cyber threat is far from over. What it takes today to keep up with the latest threats is staying ahead of the game through continuous R&D for new solutions and services that can help protect businesses, as well as investing in robust training for employees, including a thorough education on how to avoid phishing attacks that can lead to data theft within their own company.
#5. Cyber Security is a hot debate topic
It's easy to see how important cyber security is becoming. Over the last year, several significant data breaches in the news have affected millions of people and their businesses. Additionally, cyber-attacks are on the rise, as well as cyber espionage. The media, in turn, has gotten very good at reporting on these stories, and it's starting to take off as a hot topic that everyone else can't seem to stop talking about!
The cyber threat becomes more dangerous as every day passes, and it's time that we all start taking it seriously. This means that businesses need to make sure they're prepared for anything – large or small – especially if you're a small business and don't want to fall behind!
#6. Cyber Security is increasingly important for small businesses
Small businesses are just as vulnerable to cyber-attacks – and even more so than large corporations because they're not educated in how these attacks work. Small businesses are often even more vulnerable to cyber crimes because they do not have the same amount of resources that larger corporations may have, and they are not as prepared. For example, a large corporation may have a team of IT specialists on hand, while a small business might only have one person in charge of cyber security.
Suppose you're looking to grow your business in the future. In that case, it's important to be forward-thinking about cyber security and protecting yourself against threats and any data breaches. If you don't protect yourself now, you're setting your company up for disaster!
#7. Cyber threats are on the rise
Cyber attacks are on the rise! People may think these kinds of attacks happen only to large companies with lots of resources at their disposal. However, that's not the case. Small businesses are just as exposed and just as vulnerable to cyber-attacks. It doesn't matter if you're a large corporation or a small business – both have vulnerabilities that cybercriminals could exploit to do some serious damage.
There's a lot of talk about cyber security, but not all of it is helpful. A lot of people don't even know what cyber security means. When we hear the word "security," we think about protecting against physical harm and theft. When it comes to cyber security, that's only half the battle – and businesses are still learning how to do it right!
#8. Cyber Security is now a global and political issue
Cyber security is a global issue, and the whole world needs to invest in it. This means that we all need to be on top of our cyber security and make sure we're aware of the threats and how to protect ourselves!
While many people believe that the cyber security legislation will only make small businesses more vulnerable, this isn't always true. If a small business cannot afford the latest in cyber security technology, it could put them at a disadvantage to larger corporations that can have access to better, more cutting edge resources. The legislation aims to provide more resources for small businesses to have security in the market.
Conclusion
Keeping the points mentioned above, you can know the importance of cyber security in the modern world. As we all know that technology is rising in the world everywhere, new inventions are making the life of people easier. There is also a rise in the number of scams related to technological aspects, and people demand high security in such a scenario. This is where cyber security comes into action and helps people ensure the liability in the bigger and better hands.
Read More: