Entrepreneurship YouTube Channels in India?
Entrepreneurship is not child's play for everyone. It would be best if you juggled hard each day to be your boss. Nowadays, YouTube has made everything possible within no time, be its educational content, entertainment, or entrepreneurship. Many YouTube channels help entrepreneurs learn new skills and leverage their businesses.
Read More: businesscommunityindia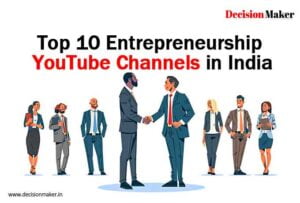 In this article, we will talk about India's top 10 entrepreneurship YouTube channels. The following are the 10 Entrepreneurship YouTube Channels in India:
#1. Dr. Vivek Bindra: 
Dr. Vivek Bindra is one of the well-known personalities in the world of motivation and entrepreneurship. He is the founder of Bada Business. He is a leadership consultant and a business coach with around 19+ million global subscribers.
He has created 8 Guinness world records and has played a pivotal role in shaping the career of the top 1500 Corporates of the country.
#2. StartupGyaan: 
Are you a decision maker willing to start your enterprise? Having an industry outlook is a requisite to your existing knowledge. StartupGyaan is your go-to place to add to your understanding of existing startups.
Arnab Nayak is the founder of StartupGyaan and was a student of Shiv Nadar University. He has around 304,000+ subscribers and provides content related to business, startups, motivation, and entrepreneurship.
#3. Entrepreneur India:
 The channel has a subscriber base of around 800K subscribers. It is the official YouTube channel of Entrepreneur India magazine and provides fascinating content to viewers on entrepreneurship and business.
In addition, they give the best advice for budding entrepreneurs and startup startups. It has 10.5 lakh subscribers, hosts free webinars, and provides knowledge of upcoming innovations and startups.
#4. Think School: 
Ganesh prasad and Parsh Kothari are the founders of one of India's most informative YouTube channels. Ganesh handles the content ideas, and Parsh takes care of the YouTube channel operations. Think School is the only YouTube channel that provides practical knowledge to the already existing bookish data.
They help prepare the students for future opportunities, educate them with the relevant knowledge and make them persistent in following their interests. They have around 700k subscribers on their YouTube channel and provide the most pertinent information to the users.
#5. Pushkar Raj Thakur:
 Pushkar Raj Thakur is an entrepreneur, stock marketing expert, trader, and motivational speaker. He educates the youth on improving global trade, sales, and marketing efforts. He is known to impact by educating other business owners to take their business to the next level.
He provides valuable content to companies, informs their employees, motivates the audience, and helps them create a better tomorrow.
#6. TEDx Talks: 
The TED talks bring renowned individuals into contact with the common public to motivate them through their journey. They talk about the general public's hardships, procedures, and everyday scenes. Ted talks is a platform wherein inspiring personalities come forward as leaders of tomorrow to make people aware of the current situations and their dealings with them.
The idea is to shape budding strategies in the mind of young entrepreneurs, make them face the challenges with courage, and stand out from the crowd. It is not about making a change. It is about being the change. The more you run away from something, the closer it is to destroy you. The channel has an audience base of around 3.5 crore subscribers in India.
#7. Intellectual Indies: 
Sahil Khanna, the founder of Intellectual Indies, talks about changing our emotional, mental, physical, and psychological well-being through his content. He provides excellent insights into the world of entrepreneurship and business.
The channel aims to share knowledge and learn together with the audience. It currently has around 1.11 million subscribers supporting the channel. So you can discover deeper insights related to business and entrepreneurship.
#8. Robin Sharma: 
Who are the top decision-makers in an organization? The leaders, of course. They take the major decisions in favor of organizational behavior. But, is there anyone who influences their decision-making power? It is the leading coach to control their company's behavior. Robin Sharma is a renowned name in the industry. He has trained clients from global brands such as Google, Microsoft, NASA, PwC, Yale, Nike, etc.
He has also been named the number 1 best-selling author with 20 million copies selling in 96+ countries. In addition, he offers world-class training courses and is a leader to world leaders. He has roughly about 9 lakh subscribers learning from him every day.
#9. SeeKen:
 A good entrepreneur is always known for his ability to interpret things and make spontaneous decisions with great insight. SeeKen is a YouTube channel run by Zeeshan Seeken which provides captivating knowledge of books, mentors, life, love, happiness, and building critical and analytical thinking through animated videos.
It currently entrusts 36.2 lakh subscribers with its knowledge of books and words of wisdom. It aims to improve the quality of life of people through knowledge and might.
#10. Sikhle India: 
Sikhle India is a Hindi YouTube channel with 13.6 lakh subscribers. It is primarily devoted to poor farmers and unemployed youth. It also provides learning opportunities to people with financial distress.
The owner of this channel aims to provide valuable content related to new tools, business ideas, farming, intelligent gadgets, franchise business, etc., to poor people who are kept in the dark from this knowledge.
Final Words
YouTube is a prime source of income for a variety of people. Some people use it as a medium to earn money, while others use this valuable tool to improve their knowledge. Moreover, it is a free source of education for the youth of our country and globe; if provided better understanding, they can outperform the competent individuals of developed nations.
The above top 10 Entrepreneurship YouTube channels in India can help you gain confidence from learning, develop interpersonal skills, and utilize the available opportunities to your best advantage. You can become an entrepreneur or a startup owner with the correct knowledge and perfect guidance from the best Indian Youtubers. So, log in to this platform and gain more information about your dream projects.
Read More: https://decisionmaker.in/how-to-build-a-good-culture-in-the-company/